Bangalore, now known as Bengaluru, is the capital of the Indian state of Karnataka. It has a population of over 10 million people and is one of the most populous cities in India. You can discover hotels in Bangalore that are couple friendly on Mistay. Bengaluru is one of the most popular tourist destinations in India owing to its good weather and its vast number of alternatives for sightseeing and you can find couple friendly hotels in Bangalore with MiStay.
Introduction
The city is home to a number of historical landmarks, such as the Bangalore Palace and the Fort of Tipu Sultan. Bengaluru is also a shoppers' paradise, with a number of malls and markets. The city is also famous for its nightlife, with a number of bars and nightclubs.
There is a reason Bangalore is one of India's most popular tourist destinations, it has something for everyone! This cosmopolitan city is a melting pot of cultures, with a rich history and a vibrant present. From ancient temples to modern shopping malls, there is something for everyone in Bangalore. There are a variety of hotels for a few hours in Bangalore, and you can choose one that is within your price range and meets your needs based on the list provided.
If you are looking for a dose of culture, head to the Vijayanagar district to see some of the city's most popular temples. For a taste of the city's rich history, head to the Mysore Palace. Or, if you are looking for some peace and quiet, head to one of Bangalore's many gardens and parks.
No matter what your interests are, you are sure to find something to fill your days in Bangalore. And if you are looking for the best places to stay, check out Dayuse hotels in Bangalore.

In this blog, we will take a look at the best places to visit in Bengaluru, as well as the best hotels for unmarried couple and restaurants in the city.

Best Places to Visit in Bangalore

1. Lal Bagh
Lal Bagh is a botanical garden, that was established in 1760 by Hyder Ali. The garden is home to a number of rare and exotic plants, as well as a glass house that houses a collection of flowers. The garden also has a lake, which is a popular spot for picnics.
2. Bangalore Palace
Bangalore Palace is a palace, that was built by the Wodeyar dynasty in 1887. The palace is built in the Tudor style of architecture, and is surrounded by a garden. The palace is open to the public, and is a popular tourist attraction.
3. Cubbon Park
Cubbon Park is a park, that was established in 1864. The park covers an area of 300 hectares, and is home to a number of trees, as well as a museum and an aquarium. The park is a popular spot for picnics and also houses a number of events throughout the year.
4. Vidhana Soudha
Vidhana Soudha is the seat of the state legislature of Karnataka, India. It is located in the city of Bengaluru, the capital of the state. The building was designed by a chief architect K. Hanumanthaiah and completed in 1956. It is an architectural masterpiece in the Neo-Dravidian style, with a blend of elements from traditional South Indian architecture.
The building comprises four floors and covers an area of about 700,000 square feet. The central dome of the building is about 60 feet in diameter and is made of copper. The building is built entirely of granite, which was quarried at Channarayapatna, about 60 miles from Bengaluru. The building is also known for its ornate carvings and sculptures, which include figurines of elephants, horses, and lions.
Vidhana Soudha is not just a government building, but also a major tourist attraction. Many people visit the building to admire its architecture and learn about the history and workings of the state government. The building is open to visitors on certain days of the week, and guided tours are also available.

5. Mysore Palace
The palace is situated in Mysore, India and is also known as Amba Villas Palace. The palace served as the Wadiyar Dynasty's official home throughout their time in power. The Mysore Kingdom's administrative centre was located at this Palace. The location is a well-known tourist destination since it is a part of the City of Palaces and draws both domestic and international visitors who are interested in learning about and experiencing the old royal lifestyle led by India's ruling dynasties. Enjoying night views can be considered as a must do to thing where you can find the best Dayuse hotels in Bangalore and none other than Mistay which provide hourly check in according to your convenience
Best Hotels and restaurants in Bangalore

1. Hoot Brewery & Café

Hoot offers a unique environment with open-air seating and a poolside bar, making it one of Bangalore's most unusual eateries. To complete the experience, Hoot Cafe & Brewery provides a wide variety of beers in addition to appetizers. This 40,000 square foot building on Bangalore's Sarjapur Road is creating a stir there. Rusted iron and wood are used for the majority of the décor, which gives the space a raw feeling.
2. The Fatty Bao - Asian Gastro Bar

If you enjoy Asian cuisine, The Fatty Bao is one of your best selections. To provide a remarkable dining experience, this best restaurant in Bangalore mixes refined culinary alternatives with a modern, laid-back ambiance, vibrant décor, and inventive food. The cuisine here will make you pleased and sigh with contentment, whether it's a bowl of ramen with unique mushrooms or some fatty oysters with soy and chorizo.
The restaurant's welcoming but edgy design further adds to its allure; various artists contributed to the space's distinct personality. They animated the walls, putting pandas on some and narrative maps showing the bao's voyage on others. When you consider everything, it's not surprise that this Bangalore outdoor restaurant attracts a lot of foodies. Even yet, it is not difficult to locate hotels for unmarried couples in Bangalore.
3. The Fisherman's Wharf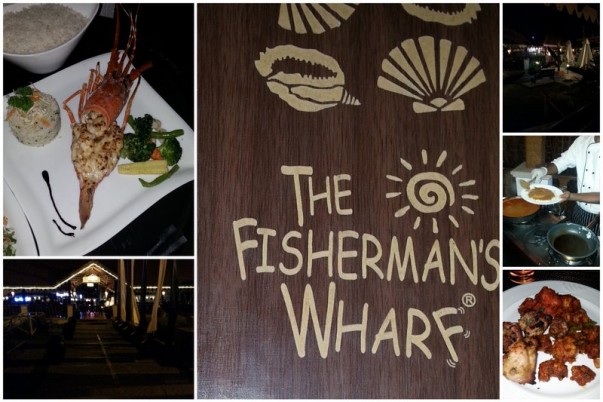 This renowned restaurant in Bangalore provides platters of Goan specialities and world cuisine, which are adored by seafood lovers from all over the city. Isn't patio dining with a bar appealing? The dimly lit outside dining area with live music ups the speed of the mood. The extravagant breakfast and lunch buffets, as well as unlimited beverages and one free round of beer, keep the dining experience alive. This is a must-see in Bangalore due to the beach décor and superb service.
4. Karavall

If you're a true foodie, you wouldn't want to miss out on this spectacular restaurant, which is a part of Vivanta, a division of the Taj Group of Hotels, and is situated on Residency Road, surrounded by huge tamarind trees and set up amid lush greenery. This upscale eatery was constructed in the traditional Mangalorean style of architecture and is reminiscent of South West Indian seaside houses. Every guest will be in awe of the establishment's traditional and elegant design as well as the vibrant color scheme employed on the walls, furniture, and accessories.
The greatest chefs prepare the meals here, utilizing only the finest products from Kerala's coastal areas and the freshest vegetables from the adjacent market. The food, prepared by Taj's best accomplished chefs, is filled with delicacies that resurrect old India's most unique traditional coastal traditions. Schedule a weekend meal here with your special someone if you want to have a once-in-a-lifetime dining experience. If you are seeking for some cost-effective solutions, another possibility is to check for dayuse rooms in Bangalore and book one of them.

Conclusion
Bangalore is a great city overall with a nice blend of traditional and modern culture. To experience the wonder of a city bursting with vitality and passion, everyone should visit this city at least once in their life. The metropolis embraces classical music as well as concerts. The majority of holidays, such as Holi, Diwali, Ganesh Chaturthi, and others, are observed all around the city. It's renowned for its arts and crafts as well, which include wood carving, doll making, Mysore painting, and ivory carving. Similar to that, it has developed a reputation for creating high-quality regional textiles, handicrafts, and other products. To have all these experiences you must visit Bangalore with we suggesting best Dayuse Hotels in Bangalore, where you can find peace as well and great ambience in the city Bangalore